If there's one type of blogger that I'm not, fashion would be it. I can DIY, bake, and lifestyle the heck out of some posts, but when it comes to OOTDs and creative clothing posts, I'm at a loss. Always. In my July goals, I posted that I wanted to actually post an OOTD--I knew all along that I may plan out an outfit, may even take photos of myself, but that I'd never really post it.
Here's where I prove myself wrong, y'all. After all, this blog is all about me rewriting my story, and although I've never done it in the past, that's no reason not to start now! I love reading fashion blogs--I obsess over their outfit choices and love how brave they are to put themselves out there like that, so why can't I do it myself?
Jana at Life Could Be a Dream had the perfect excuse for me to be brave--I figured their Creative Closet linkup would be a great way for me to just jump right in!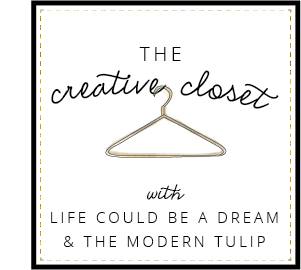 Today's prompt was "classy neutral." When it comes to neutrals in my closet, they're slim to none. I love color and love wearing it--I don't even own a white pair of pants (shocker, I know!) I had to think outside the box to make this one work, but it wasn't that hard when it came down to it. Leopard print is always a neutral in my book, and this basic black dress from F21 is new but is already a staple in my wardrobe.
After Andrew snapped these pics, I looked at them and shuddered at how "fat" and how "gross" I looked in them. I was embarrassed that I even thought about doing this, because in my mind, "who in the world was I to post about outfits?" For some reason, I had the thought that I needed to be skinny and tall to do this and do it right. I quickly snapped back into reality and realized that although I wasn't crazy about these pictures, I AM beautiful. I may have gained a few extra pounds that don't need to stick around, but that doesn't change anything.
I'm learning day by day that beauty isn't a number on a scale. I've heard it for years, but it's finally starting to sink in. So here I am, posting these pictures, even when every voice in my head is screaming not to.
So, neutrals. This is my neutral. I threw this on the other afternoon before meeting a couple of girls for happy hour because it was too hot for jeans and I needed to be a little more dressy than usual. It made me feel sassy and fun, yet comfortable at the same time.
Leopard kimono: local boutique | dress: Forever21 | Shoes: Target
Bag: Louis Vuitton |
Earrings: Kendra Scott
And now I'm going to go pour a glass of wine to cure my first OOTD nerves. Thanks for reading! Xoxo