There are 24 hours in a day. We spend a good chunk of that sleeping and then the rest is usually taken up by work, chores, and obligations. Sometimes we're able to sneak a little fun in, but it's all up to us to make that day worthwhile.
I've mentioned this before, but I'll say it again. My favorite part about blogging is getting to know other women--especially the real person behind the blog, not just the fancy, shiny posts.
Brittany and I have been so looking forward to this linkup because we both believe it's going to be such a great way to learn more about the blogger and what a typical day is like.
So, grab our button, snap some pictures (of anything, really!) and come link up with us. It'll be fun, we promise!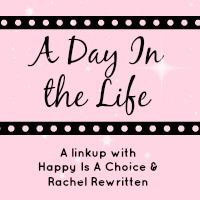 You may not know this, but I'm a L&D nightshift nurse. So my typical day consists of me sleeping from 9am-5pm and then working from 7pm-7am. I didn't think you'd want a post on that (although I do have some fantastic stories, that's a whole post in itself!) so I'm going to give you a little glimpse into one of my days off. Those are more fun anyway!
My husband leaves for work around 6:30 every morning, so I wake up, kiss him goodbye, and then roll back over and sleep until around 8 or so! Some days I'm up earlier, some days later. I'm all for sleeping in when I can--the joys of being a nightshift nurse!
I usually eat breakfast, grab a cup of coffee (or two!) and head out to my back porch to read my Bible or watch a little Today show, while the dog watches me.
Some days, if the public is lucky, I'll put on some makeup. My bathroom always looks like a Sephora exploded.
If I have no plans or errands to run, I'll usually spend an hour or so reading blogs and checking Instagram. If I'm organized, I'll try to get a blog post published if I haven't already. And let's be honest, the whole time I'm sitting here, I'm side-eyeing the chores I need to be doing around the house.
After a little morning unwinding, I suppose it's time for me to be a little productive. In our house, my husband is in charge of dishes and I'm over the laundry, then we share other chores. Let's just say, he's good at his task, and I am not, so I usually have no less than 3 loads to fold at any given time. Why do I hate it so much?
Nena and I usually play outside for a little while in the afternoon if it's not too hot. That dog has some energy, so I try to run her around for a little while. And today, I noticed our crepe myrtles are finally blooming! I just asked Andrew the other day if it was dead.
Am I the only one who LOVES to check the mail? This day was a good mail day--Amazon loves when I get in the mood to buy some books. My husband, not so much. I think I literally jumped up and down when I opened this package...too bad I can't read them all at once! Have you read any of these?
I had to run an errand on the Square (which I hate during the day--so much traffic and I'm always yelling at people. Yes I have road rage!) but today was gorgeous so I snapped this picture while I was out. If you ever want to come visit the quintessential Southern town, Oxford is your place.
And I'll usually sit down and enjoy another cup of coffee at some point in the afternoon, while watching Friends, Grey's Anatomy, or my favorite--the Pioneer Woman! Can I just be her already? I want her hair and all of her kitchen skills.
Nena sits right here and waits for Andrew to pull in the driveway.
Andrew gets home around 4:30 or 5:00, so we usually hang out for a little while, take Nena for a walk, or I make him go to Walmart with me (because I hate grocery shopping alone.) Tonight we're having spaghetti squash spaghetti--it's healthy and delicious, and most importantly, husband approved! I love CrockPot meals and simple, throw-together recipes.
After dinner, we'll catch up on our favorite shows and just relax. I'd like to say we live an exciting life full of social outings, but for the most part, we're home bodies and love having people over in lieu of going out. And that's perfectly okay with me. Of course, the best part of the day is when the wine bottle is uncorked.
Well, that's a normal "off day" for me. What does a day in your life look like? I can't wait to see!
Your Hosts
Link up Rules:
1. Follow Your Hosts
2. Write your "Day In The Life Post"
3. Add your link
4. Go check out what a day in the life of the other participants looks like
5. FIND NEW BESTIES!



Brittany and I have also teamed up to give away an amazing prize pack that I wish I could just win and keep for myself! Here are a few of our most favorite things of the summer that could be yours. Use the Rafflecopter below to enter...good luck, ladies!
a Rafflecopter giveaway